2023-2024 Academic Calendar
2023-2024 Academic Calendar
---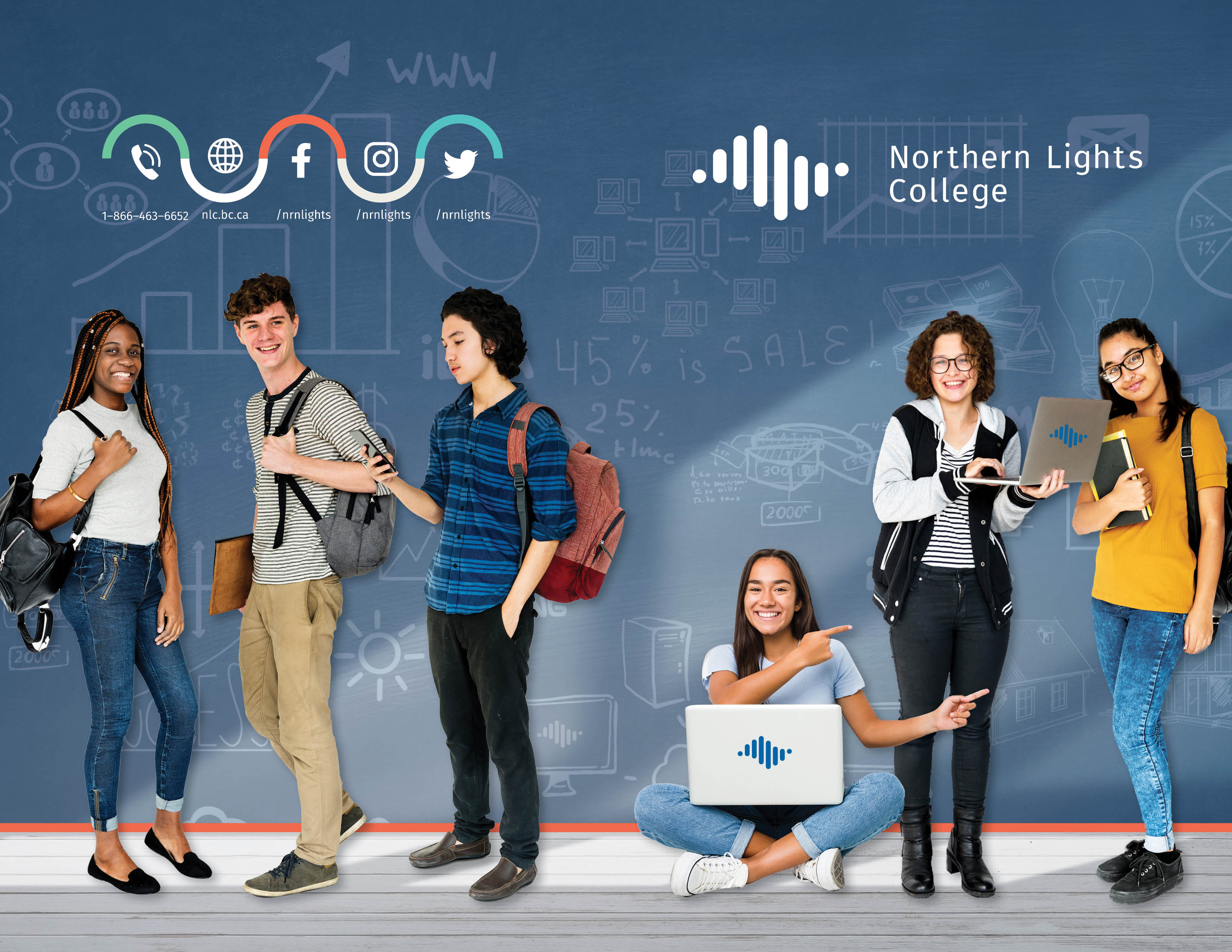 ---
Welcome to Your Online Calendar
The Academic Calendar is the official guide to NLC's programs, including admission requirements, graduation requirements, course descriptions, academic regulations, fees, and the academic schedule. This edition is in effect for enrollments from September 2023 through August 2024.
This online version of the Northern Lights College Academic Calendar is the official version of the Academic Calendar. Although every effort is made to ensure accuracy at the time of publication, NLC reserves the right to make any corrections in the contents and provisions of this calendar without notice. In addition, the College reserves the right to cancel, add, or revise contents or change fees at any time without notice. To report errors or omissions, or send comments or suggestions, please email registrar@nlc.bc.ca.
Territorial acknowledgement
Northern Lights College acknowledges that our campuses are situated on the ancestral and traditional land of many nations, including the Dunne-Za, Cree, Tsáá? Ché Ne Dane, Saulteau, Tse'Khene, Kaska Dena, Tahltan, and Tlingit. We also recognize Metis Nation members who share a deep history with this land.
We, at Northern Lights College, commit to restoring and honouring the Truth and Reconciliation calls to action; we strongly believe that truth must be acknowledged to move forward to reconciliation. We are grateful for the Traditional Knowledge Keepers and Elders who are still with us today and those who have gone before us. We acknowledge our hosts and honor their gracious welcome to those seeking knowledge.
Using the Calendar
Navigate or search this calendar using the menu on the left.  Programs can be explored by Area of Study, Credential awarded, or an A-Z list.  A complete list of all Education Council approved courses is available in the Course Descriptions section.
Each page includes the following icons:
---
Program Planner
Add to 'My NLC Calendar'
Social Media
Print-Friendly Format
Help
Plan It!
Save it!
Talk About It!
Print It!
Use It!

The Program Planner icon is at the top of each program and provides a print-friendly version of the degree requirements in a checklist format. Please review these requirements with your Program Chair, as yours may differ from the general requirements listed.

Create a personal portfolio by clicking on the My NLC Calendar link at the bottom of the left navigation pane. You may add programs, courses, even regulations to your favorites by selecting the star icon located on the top right of the page.
 

Share catalog information on Facebook and Twitter.
 

Selecting this icon will generate a pop-up page formatted to neatly print.
 

Includes more information about how to use the calendar.
 
Looking for an earlier version of the calendar?
View a listing of all calendar archives here.
Program Information and Completion Guides are available by contacting the Office of the Registrar registrar@nlc.bc.ca.
Important notice
By the act of registering for a course or program of studies, each student agrees to adhere to the terms of this notice and the terms, conditions, policies, rules and regulations contained and referenced in the academic calendar or in other College policies.
This calendar describes the College at the time the academic calendar was published online or subsequently updated. Northern Lights College reserves the right, subject to the authority of the Board of Governors and/or Education Council, to makes changes it considers necessary, including, but not limited to admission requirements, registration, courses offerings, programs of study, academic standards, tuition and other fees, policies, rules, regulations and codes of behavior. All changes may be made by the College without notice, however, every reasonable effort will be made to provide advance notice to students and prospective students.
---